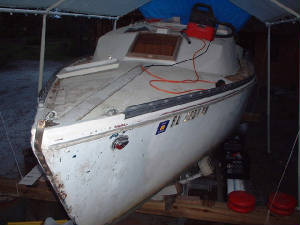 This is the mast step(in the picture below) showing the piece of pressure treated pine, within the cavity of the fibreglass step. This wood was completely saturated with water, but showed no signs of rot. The balsa core under it had started to rot and had already suffered from compression. There is a bow in the fibreglass step which I don't think I will get rid of. I will build up the depression with layers of glass and epoxy until the metal tabernacle will sit flat on it.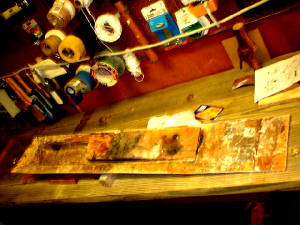 What remains of the old wood.

The fore-deck is on, with the sidedecks still in process. All hardware is now off of the cabin-top, including the tabernacle. That was a bear to get off. Now all left to be done is to cut the cabin-top off. Easy!
Here is the exposed cabin. I was surprised to find the balsa in as good (golden coloured) condition as I did. The sponginess was the top layer of fibreglass delaminating from the balsa, not from water induced rotting, just from a poor job of fibreglassing. So I'll put a single piece of plywood in, the width of the cut from the hatch to the side, then I'll put in a second piece under the mast step. Sealed with epoxy, I think it will last the life of the boat.