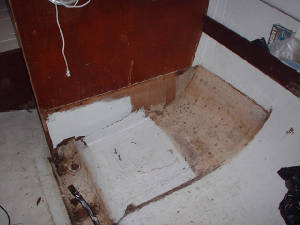 Success!
The fibreglass tab can be seen separating from the bulkhead, so I have to cut this away, on this and the other side, then will cut the lower part away. The replacement will be epoxied into place and tabs placed around the cuts on both sides.
In this photo, the fibreglass tab can be seen in front of the bulkhead. The dark coloured wood on the bulkhead is the rotten part which is still damp! I plan to cut this out this weekend.
10 April 2005
I didn't get to the boat this weekend as I had house repairs to attend to. I have taken some photos of the new piece of 3/4" ply inserted and glued in place. I still have to fillet and tab the bulkhead in place, but I should be able to swing an evening this week.
The forward vee-berth is the next project. I need to remove a rotten panel from the face of the berth and insert a piece of 1/2" ply.
A big decision coming is the size of the holding tank and how do I install it into the vee-berth space. The closest pump-out is 20 miles away and so I need to 'keep' things aboard as long as possible.
17 April 2005
Got the bulkheads in place, dry fitted and then tabbed in with three layers of glass. It feels very solid. I've taken the opportunity to cut more hatches for more access to the space under the double berth/seats.