I had to take the paint off - the Petit sandless primer is really an excellent primer, but the instructions must be followed. I let the paint dry and that was my mistake. The fact I painted two-thirds of the boat did not help. Now the Unepoxy comes off in ribbons and must be completely removed. My mistake.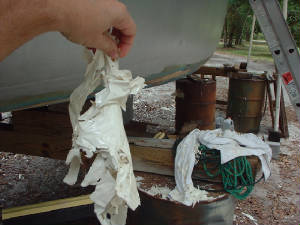 Okey dokey. Two weekends of 'lost' time and now the boat is basically back to primer stage. Very frustrating, but a real lesson learnt.
I sanded the cabin and deck with 120 grit paper to give a tooth to the primer. I carefully cleaned the sanded surfaces and got out the trusty roller and started again. It went on great and of course, will need at least two more coats. By Easter Monday, I felt I had to give myself a boost and so I tackled the Navy Blue paint. Oh, it looks just great! I do have some 'orange peel' to tackle, but that is going to get sanded away. I have to remember to thin the paint as the vapours evaporate. No, it's not my grandfathers oil paint.
No picture yet, but I have started the white boot stripe. The rains in Florida have been torrential and that and close to 100% humidity makes it difficult to apply the Easypoxy.